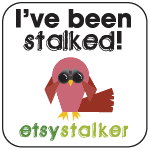 T

oday I got an email from Violet of Etsystalker letting me know that I've been stalked!
Etsystalker
is a blog curated by Beatrice and Violet that features their latest Etsy finds. My corduroy
Offbeat Messenge
r
was stalked for their recent post,
Fall
Purses: Men Will Never Understand
. The post discusses womens' need to change purses as the seasons revolve and features a selection of beautiful purses for autumn. Check out their blog for lots of fun posts and great finds. So it seems that being stalked is not always a bad thing!